Golden Goose Sneakers: Sizing, Sales & 10 Best Golden Goose Dupes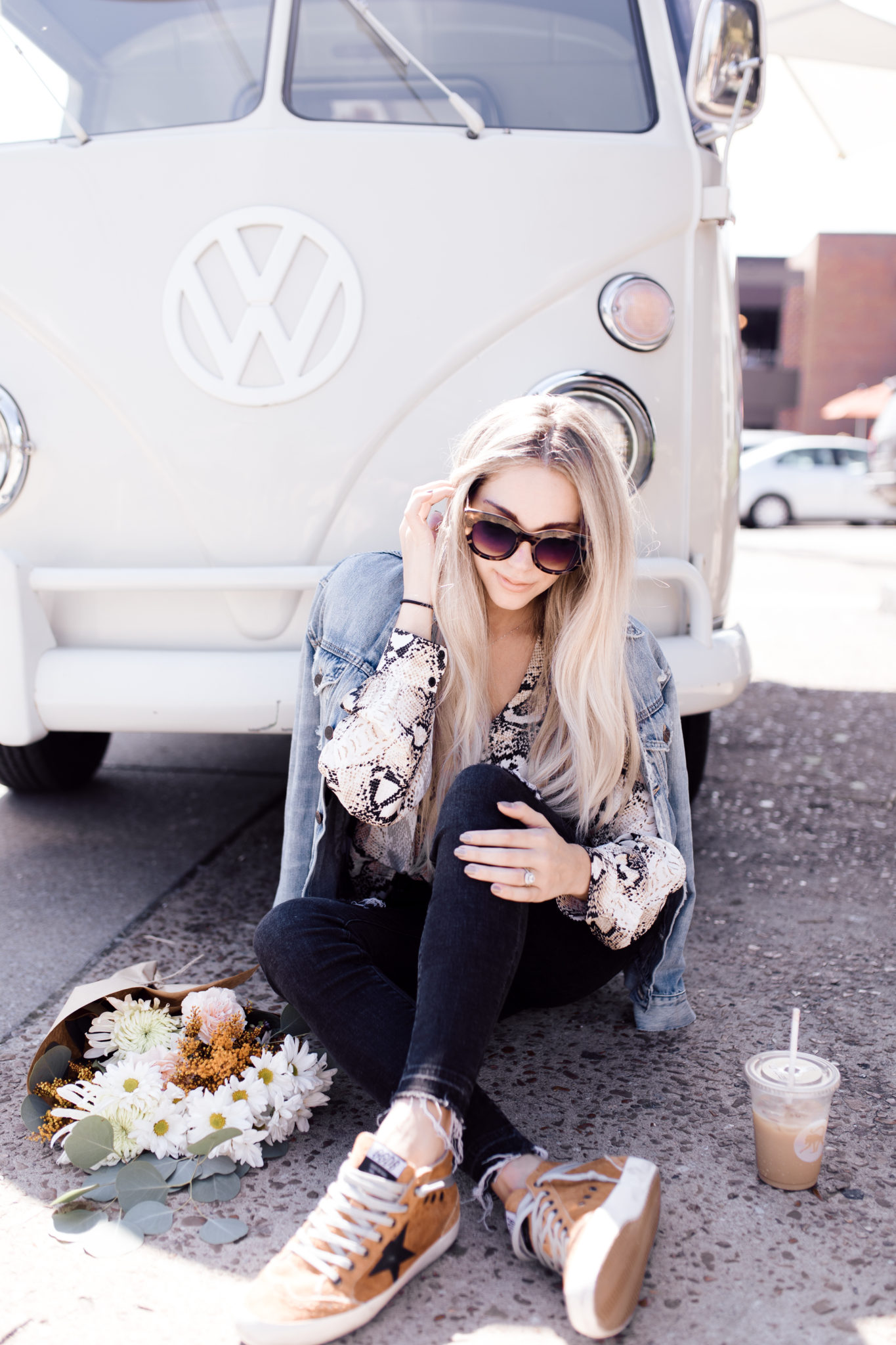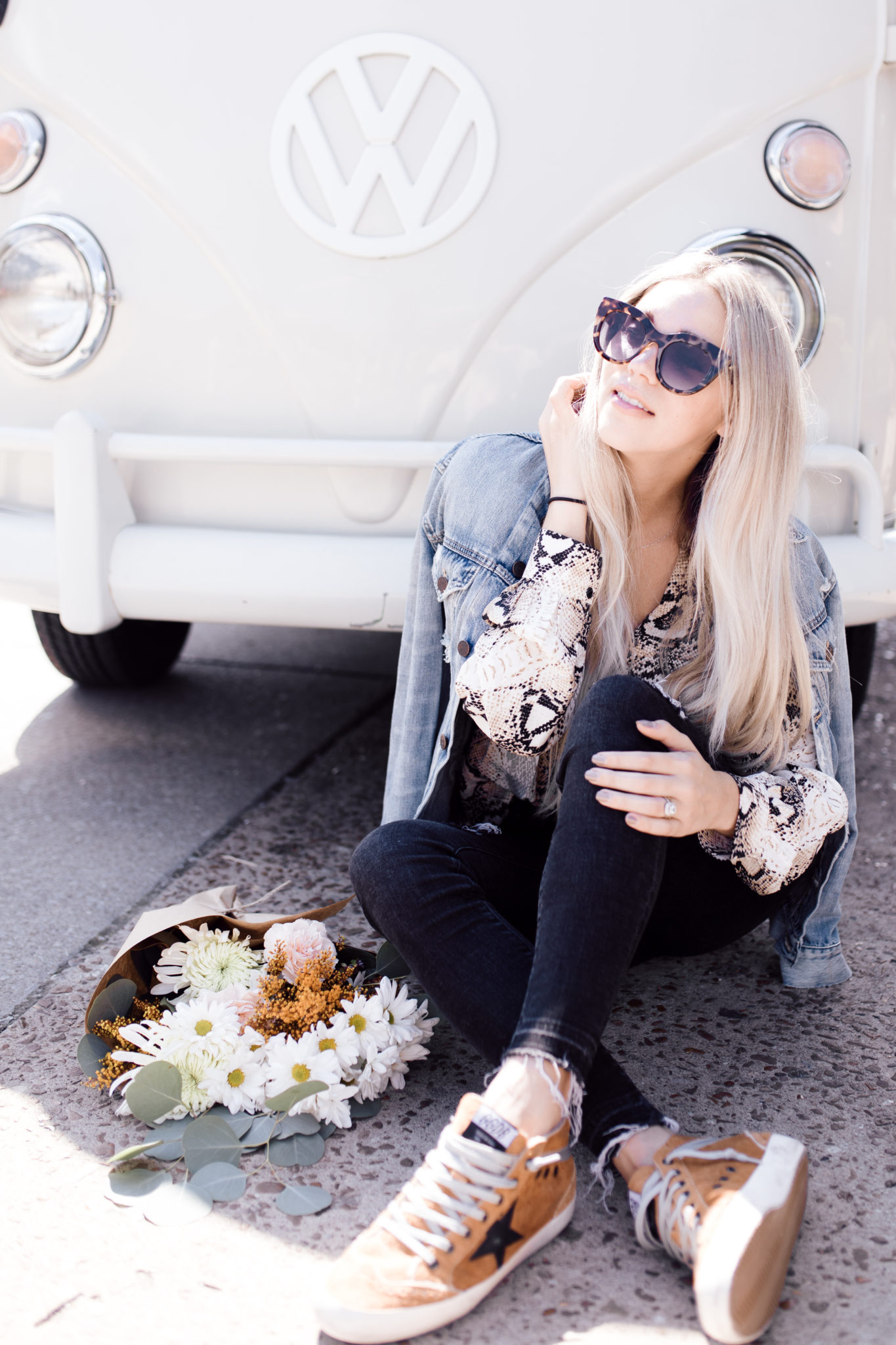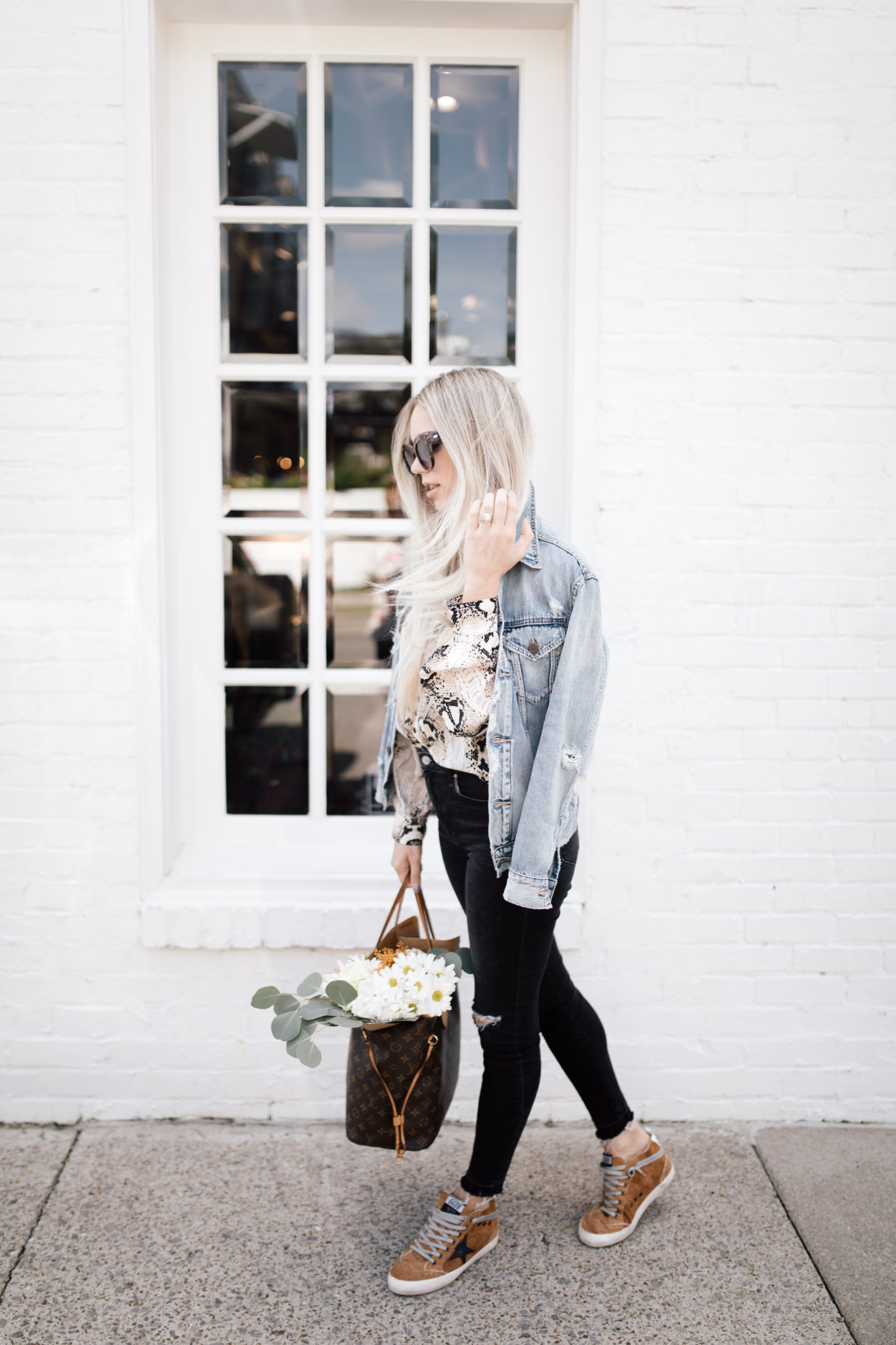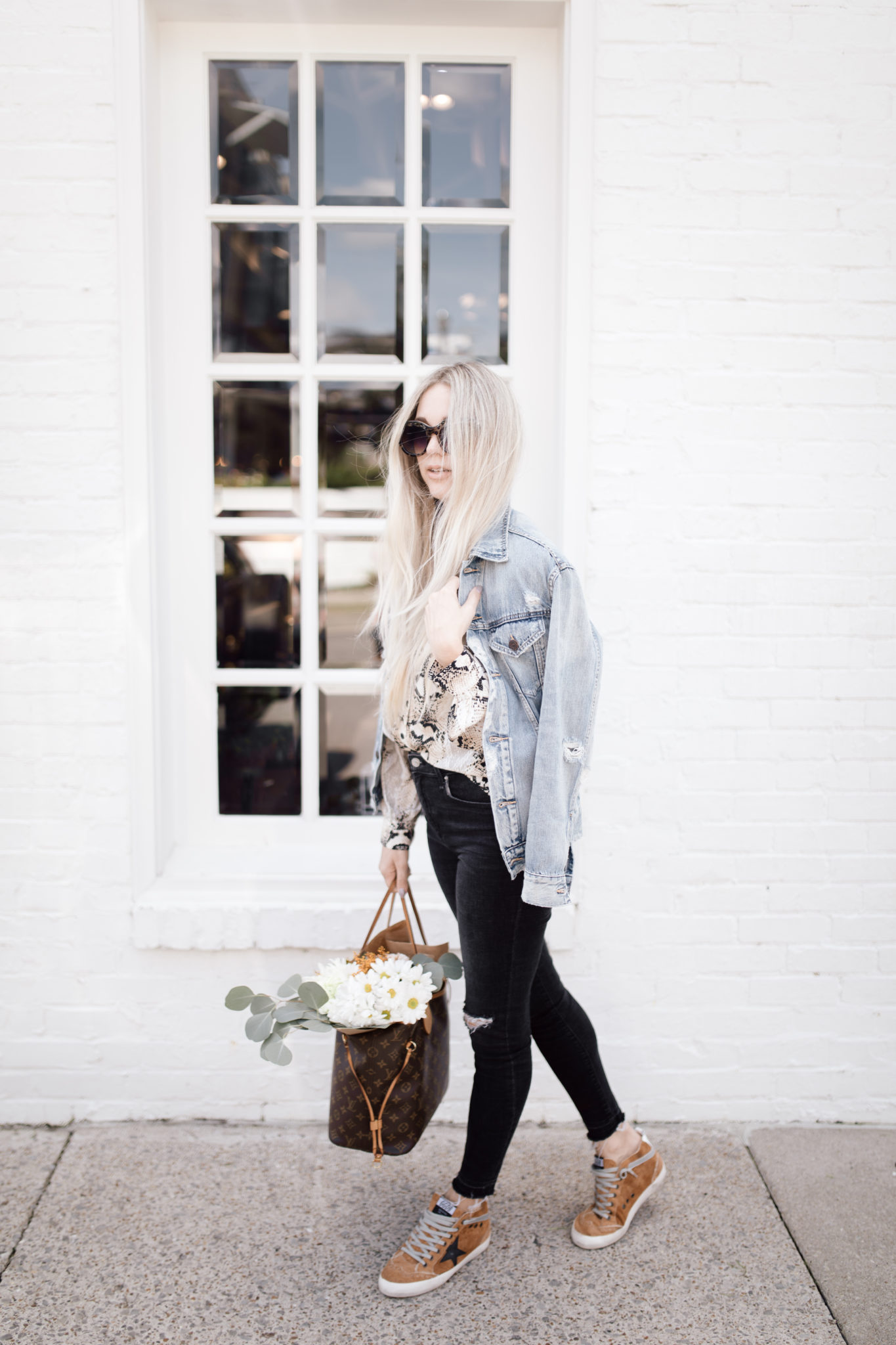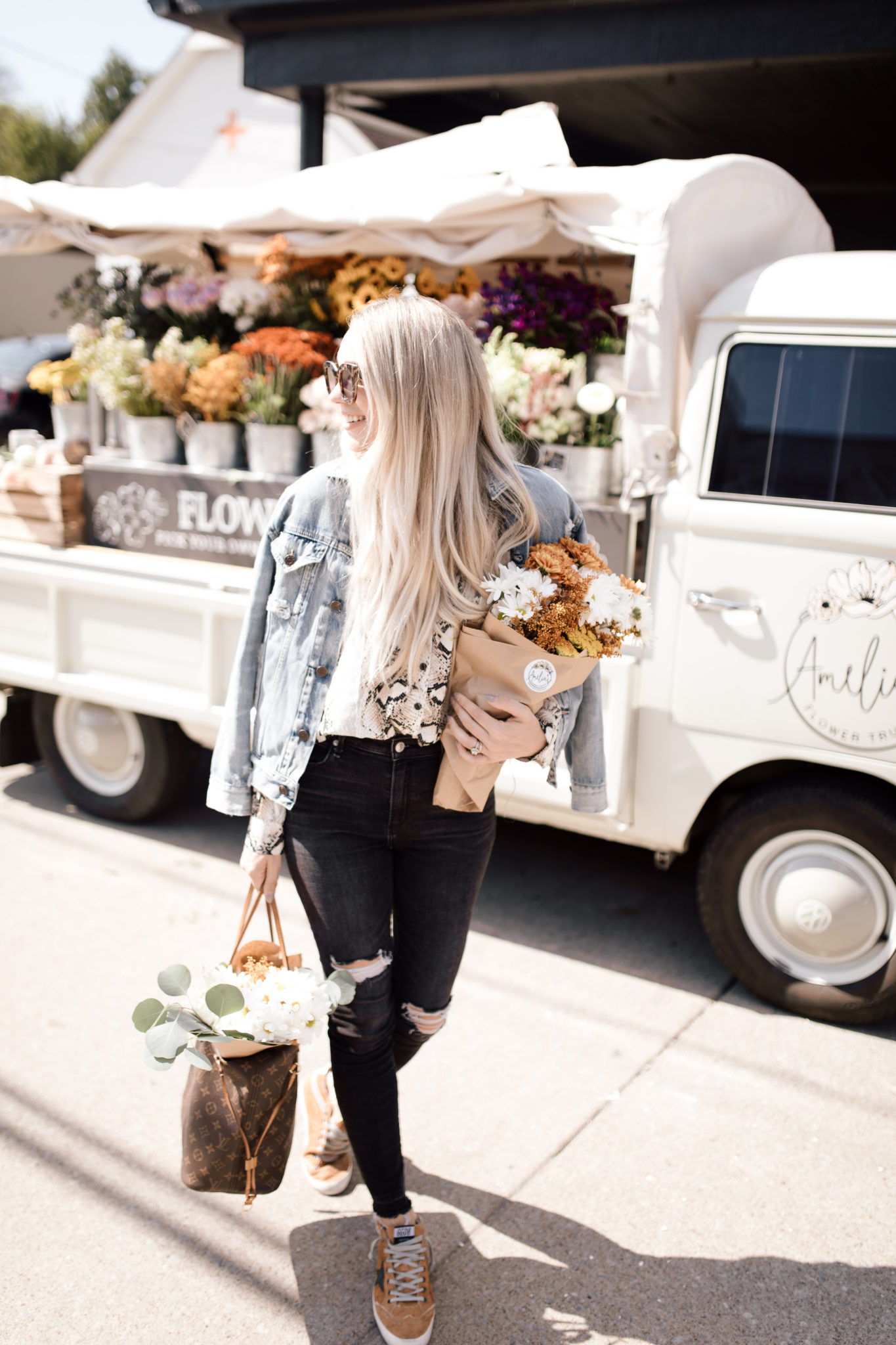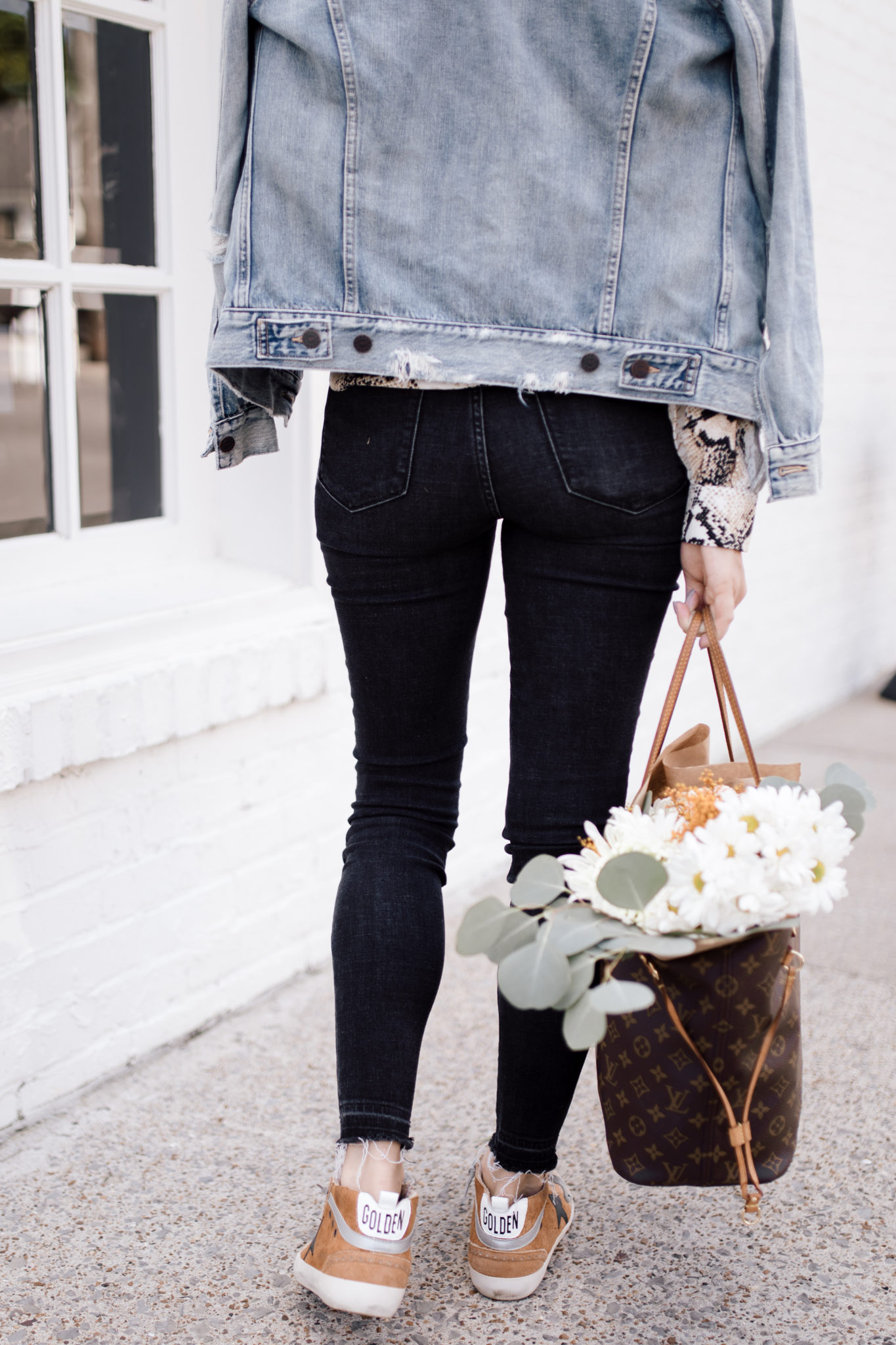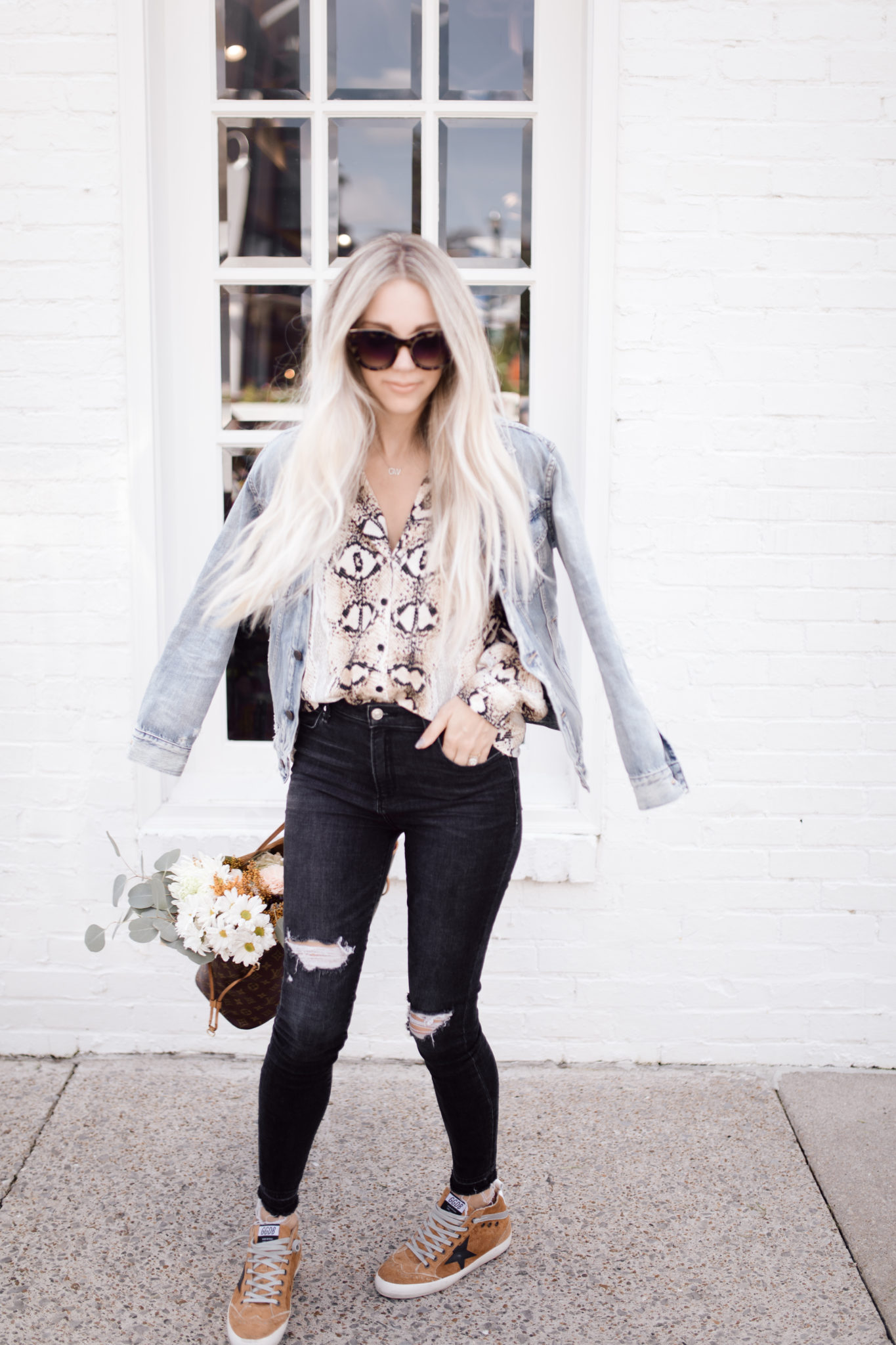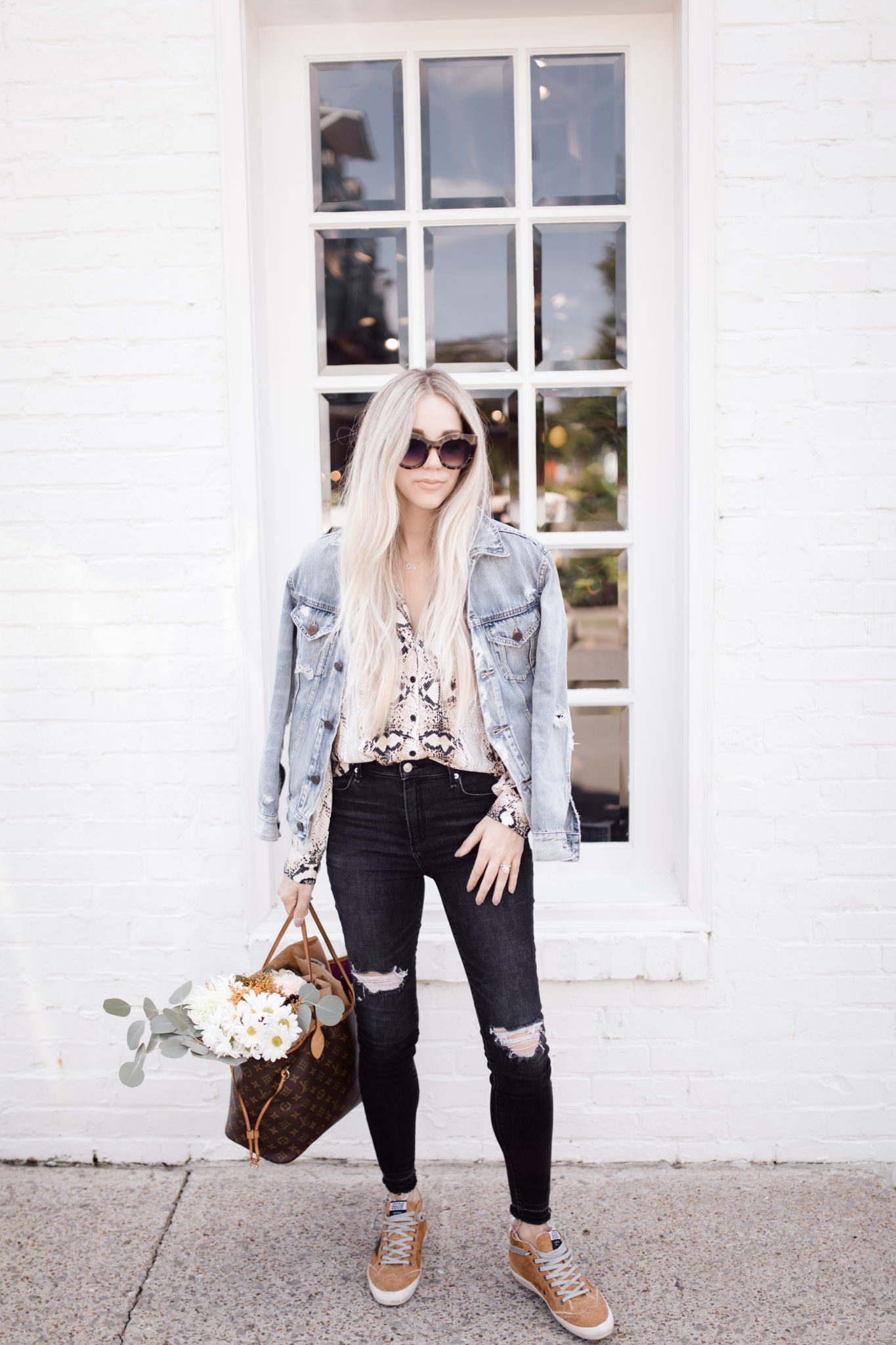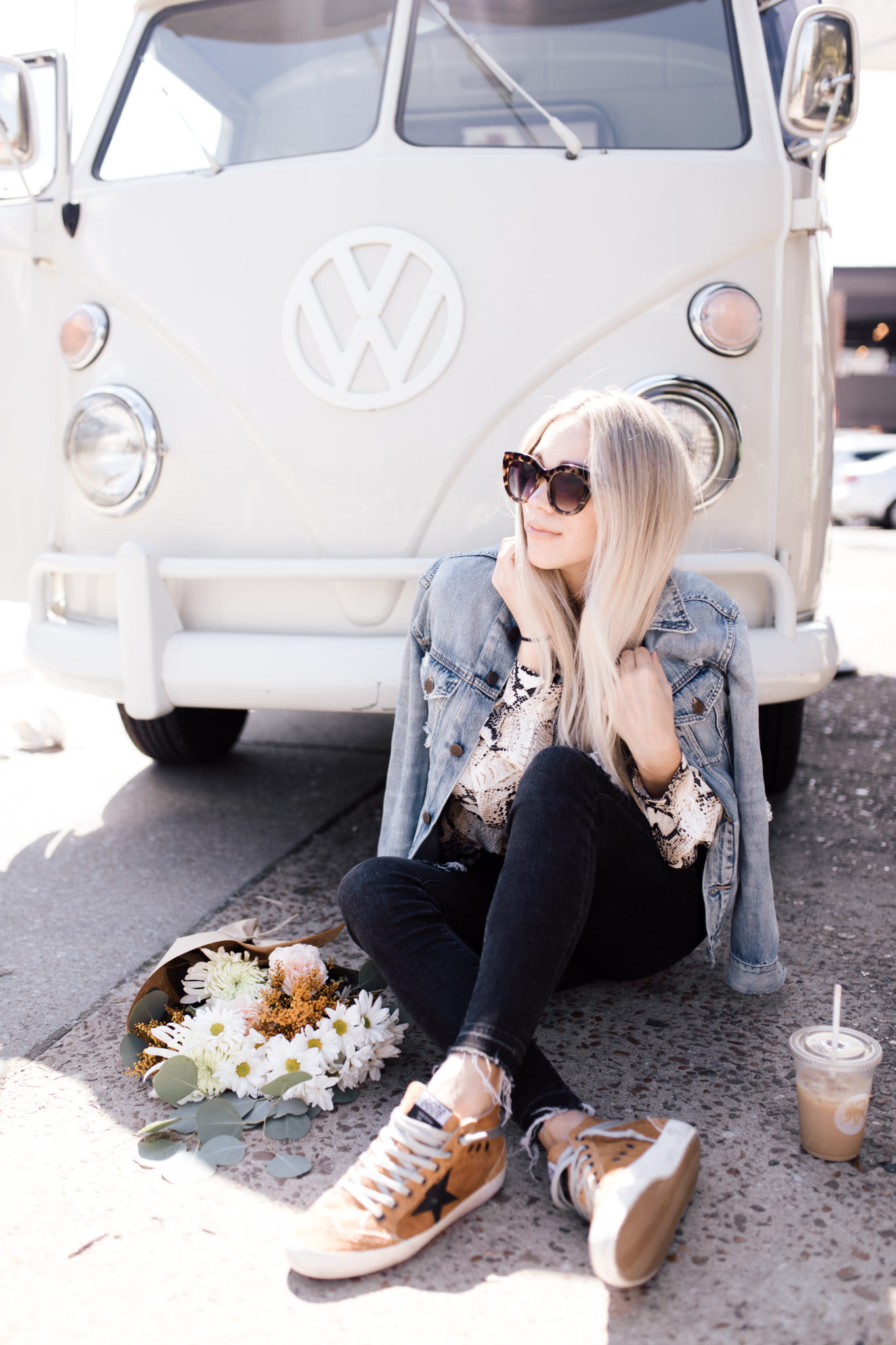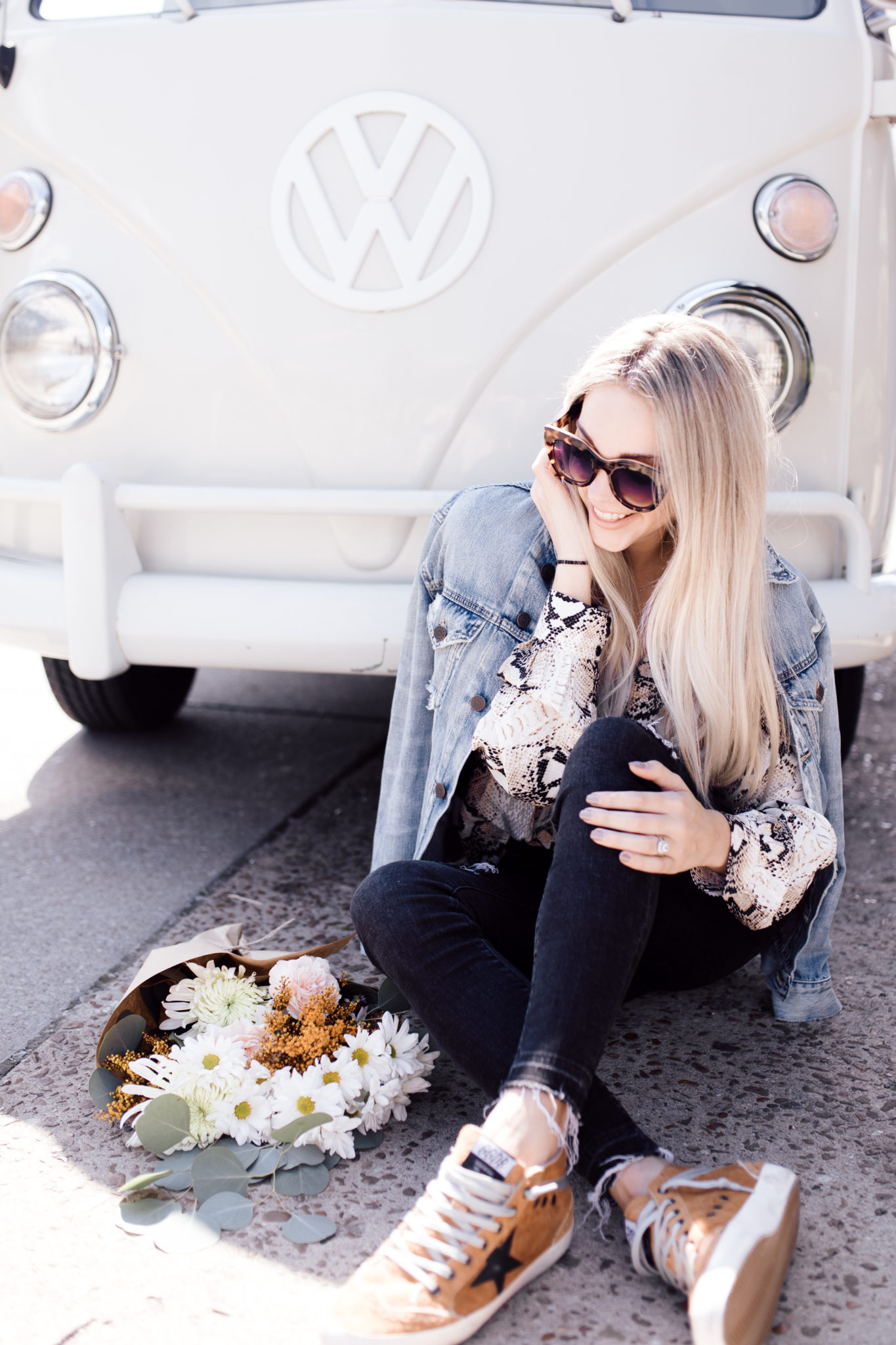 Denim Jacket | Snakeskin Blouse | Black Denim | Sneakers
Golden Goose sneakers are all the rage these days, and I totally get it! They are so easy to slide on and go. Style them with a dress or a t-shirt and jeans. They have that effortlessly cool factor to them, and will quickly become the most worn item in your closet.
For this look, I threw on a pair of black denim, a snakeskin blouse, and another fall wardrobe capsule item, this denim jacket. Easy peasy!
Now, I know they are an investment. For me, I am in sneakers the majority of the time. I can have a baby on each hip, slip them on, and still leave the house feeling stylish.
Golden Goose is an Italian brand founded by Francesca Rinaldo and Alessandro Gallo in 2000. They considered themselves "outsiders" in the fashion world, and never played by the rules. Perhaps that's why they have become such a cult favorite; their authenticity and boldness paved their own way.
SIZING
Since they are an Italian brand, the sizing is in the Italian standard. (Example: 36-42.)
For reference, I am a standard US 8.5. I wear a 38 in Golden Goose. A general good rule of thumb with Golden Goose is to order a 1/2 size down. So a 38 would be an 8 which is 1/2 size down from my typical 8.5.
SELECTION
One of the things the brand prides themselves on is being extremely particular about who they let carry their shoes. Their branding must align, and it gives it more of an exclusive feel. They do smaller size runs of each style as well. (Meaning if you see one you like, scoop it up! They will sell out quickly.)
A few of the places that I have found to have GREAT selections of Golden Goose sneakers are:
* SSENSE– A HUGE selection. Currently running a big sale. Here are some favorites from the sale!
* Intermix -(This is where the pair pictured were purchased.) They always get a unique selection, and occasionally will go on sale as well.
* Net-A-Porter – They have a wide selection with tons of sizes always in stock.
* Neiman Marcus – They always have a vast selection as well as exclusives. (Like these white leather with leopard laces pair I've been eyeing…)
* Shopbop– A great place to catch them on sale, especially during the Shopbop sales.
* H.Audrey- This is a local boutique in Nashville. They always have an awesome array of GG goodness.
SALES
The best news yet…. you can find them on sale! There are a few places that frequents putting these beauties up on sale.
SSENSE & FarFetch frequently put Golden Goose on sale. It's easy to set up an alert for those sites, to watch for sales.
THE TEN BEST GOLDEN GOOSE DUPES
If you aren't ready to commit to a pair… I've rounded up some really awesome dupes! A great way to get the look for less!