Fall Makeup Tutorial (and some cute baby pics..)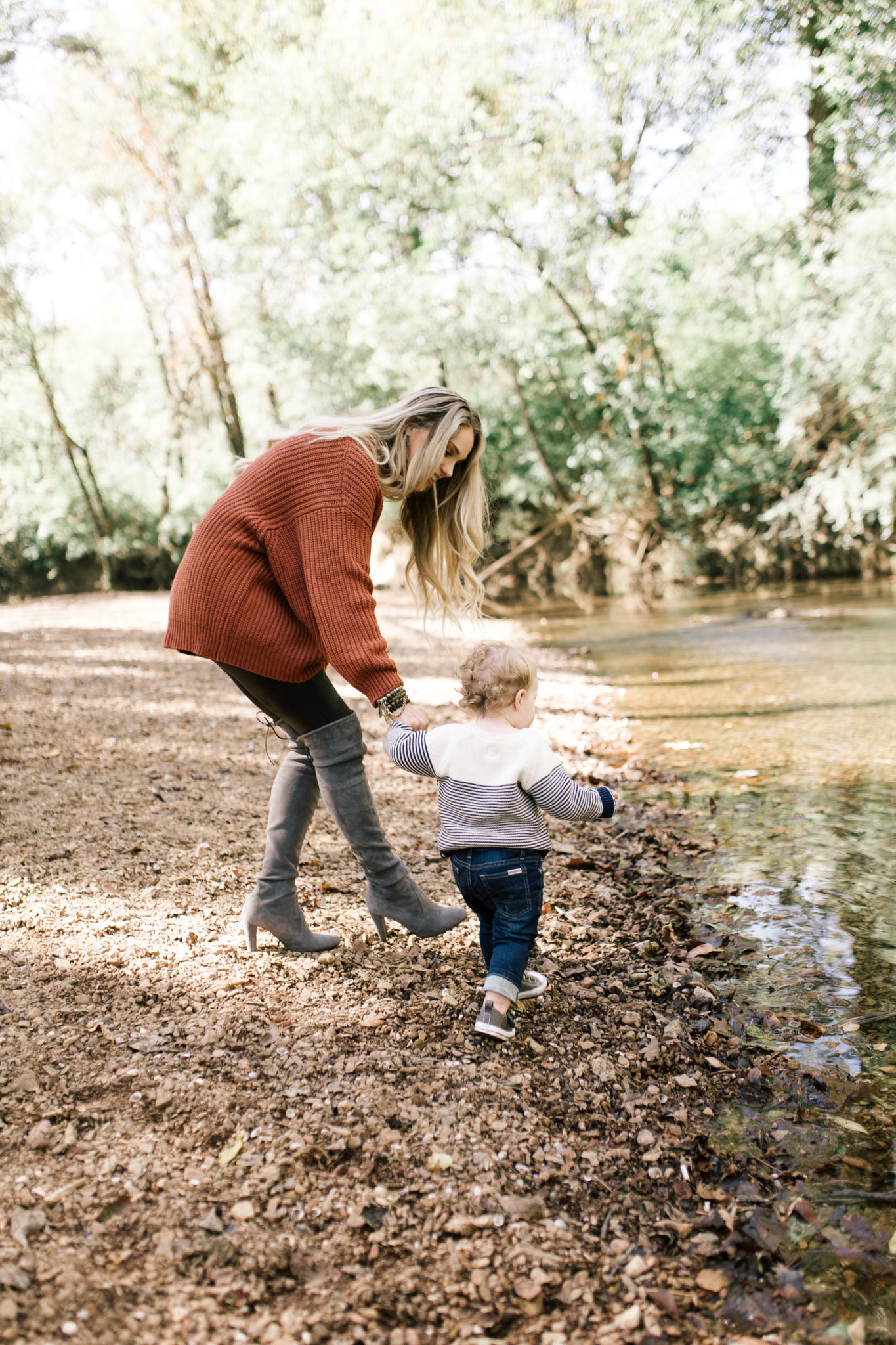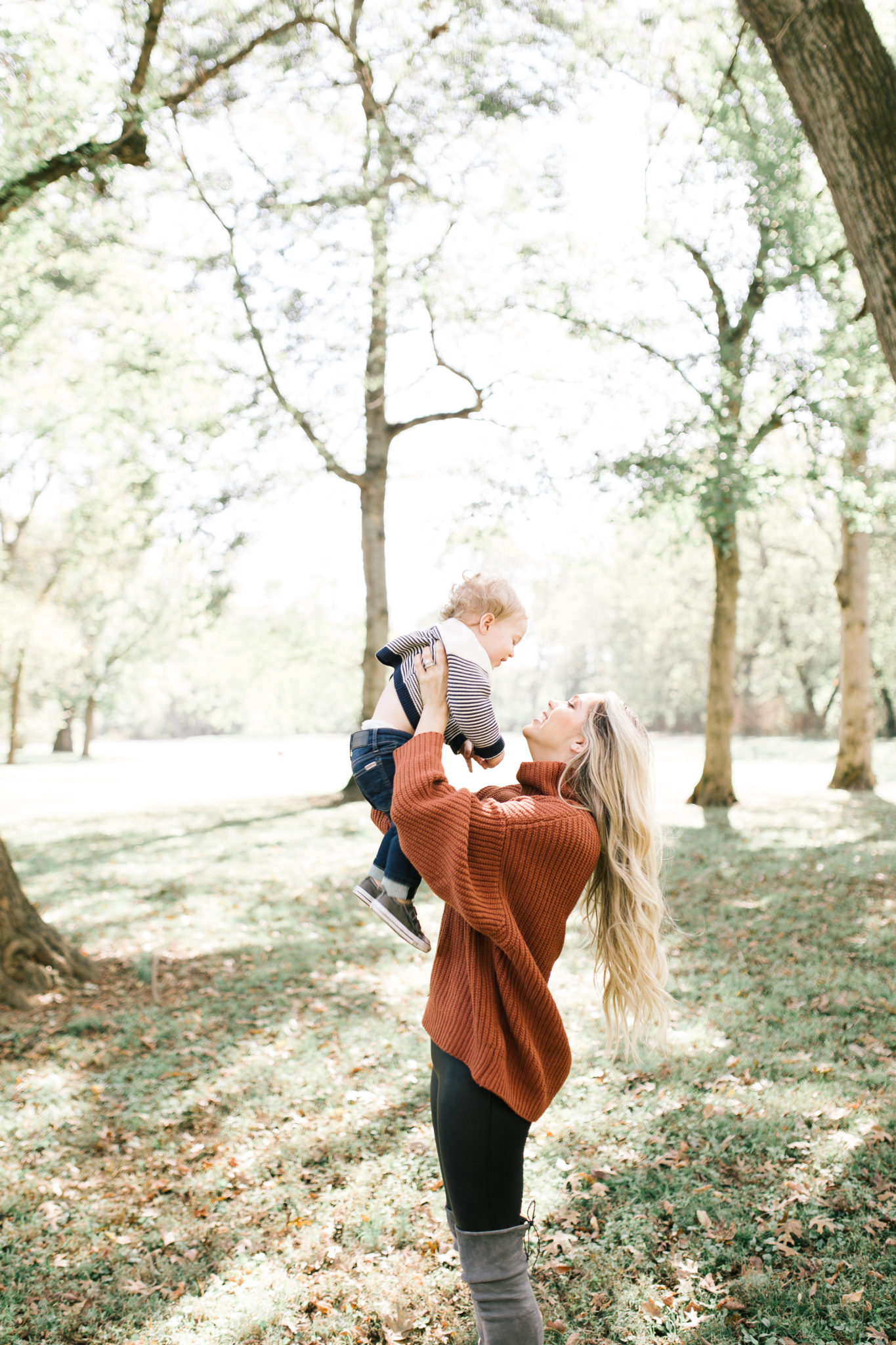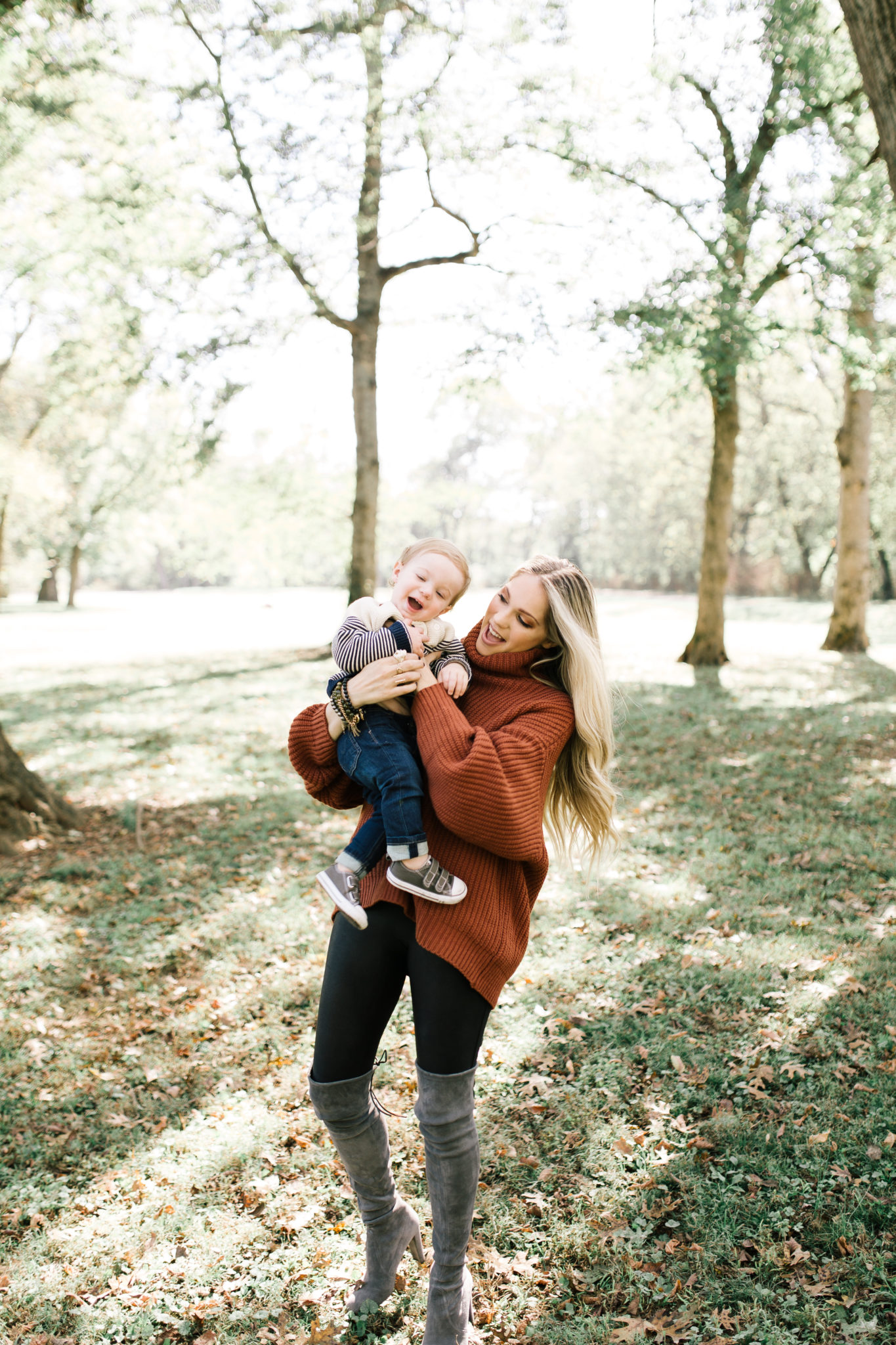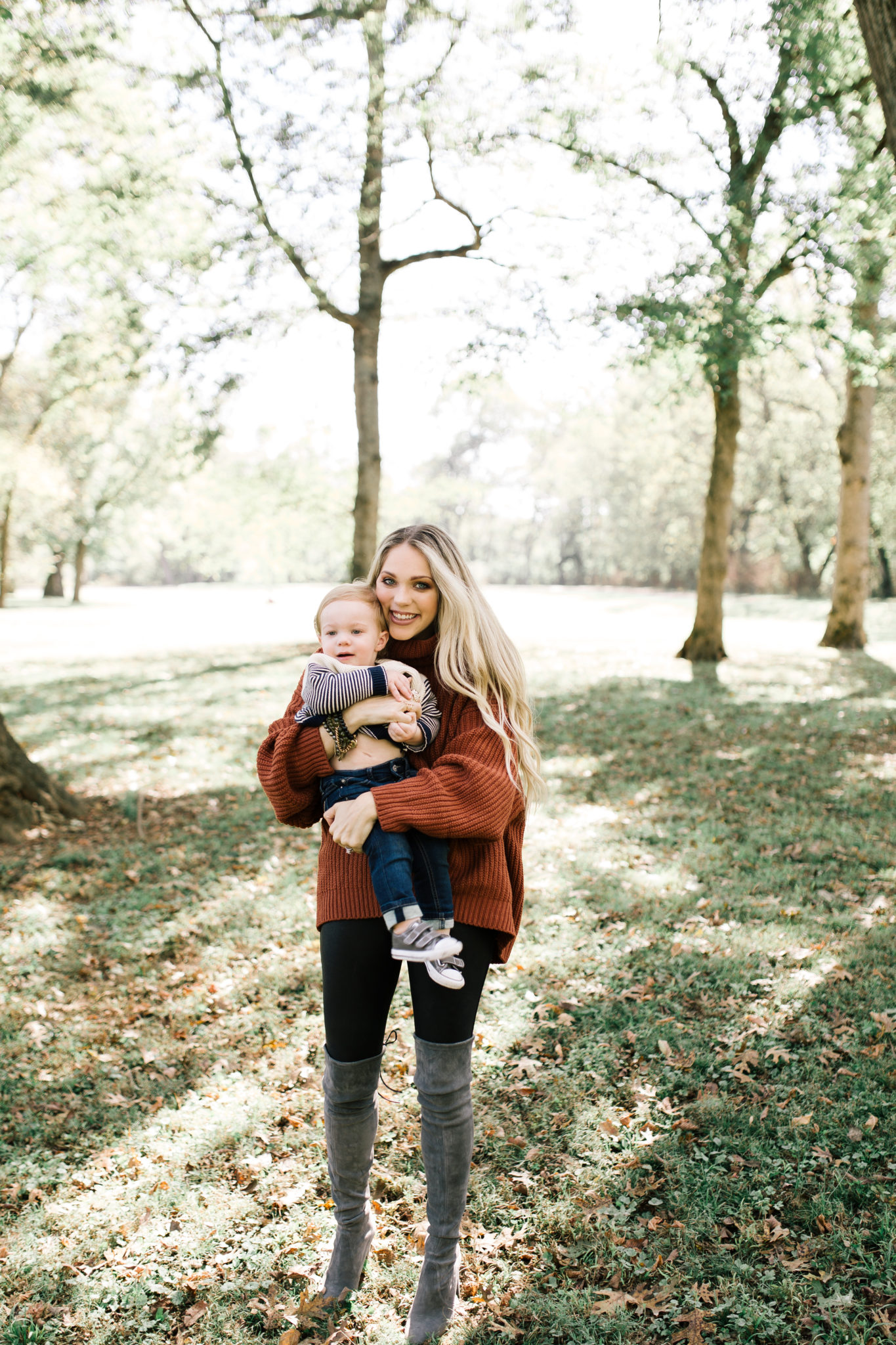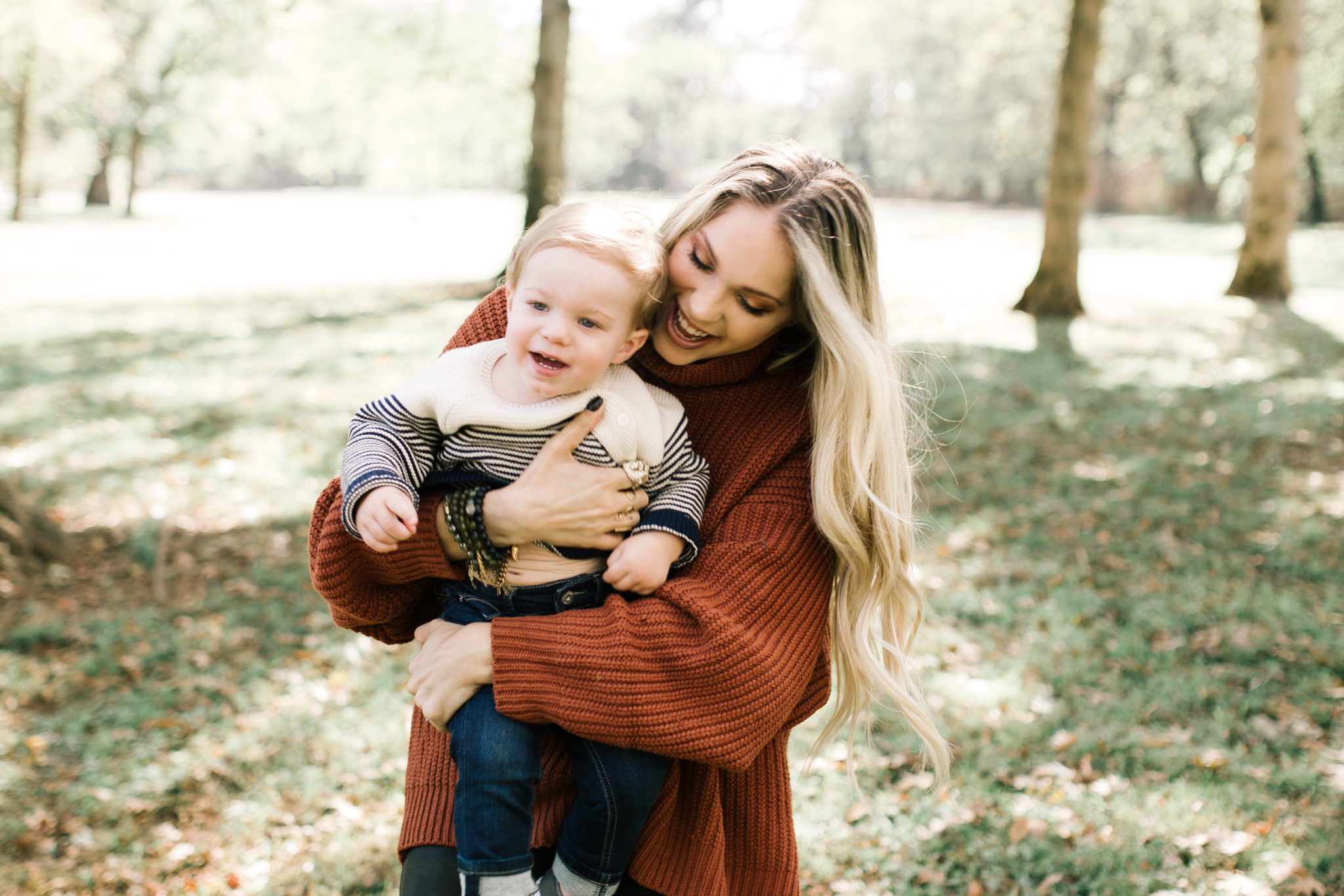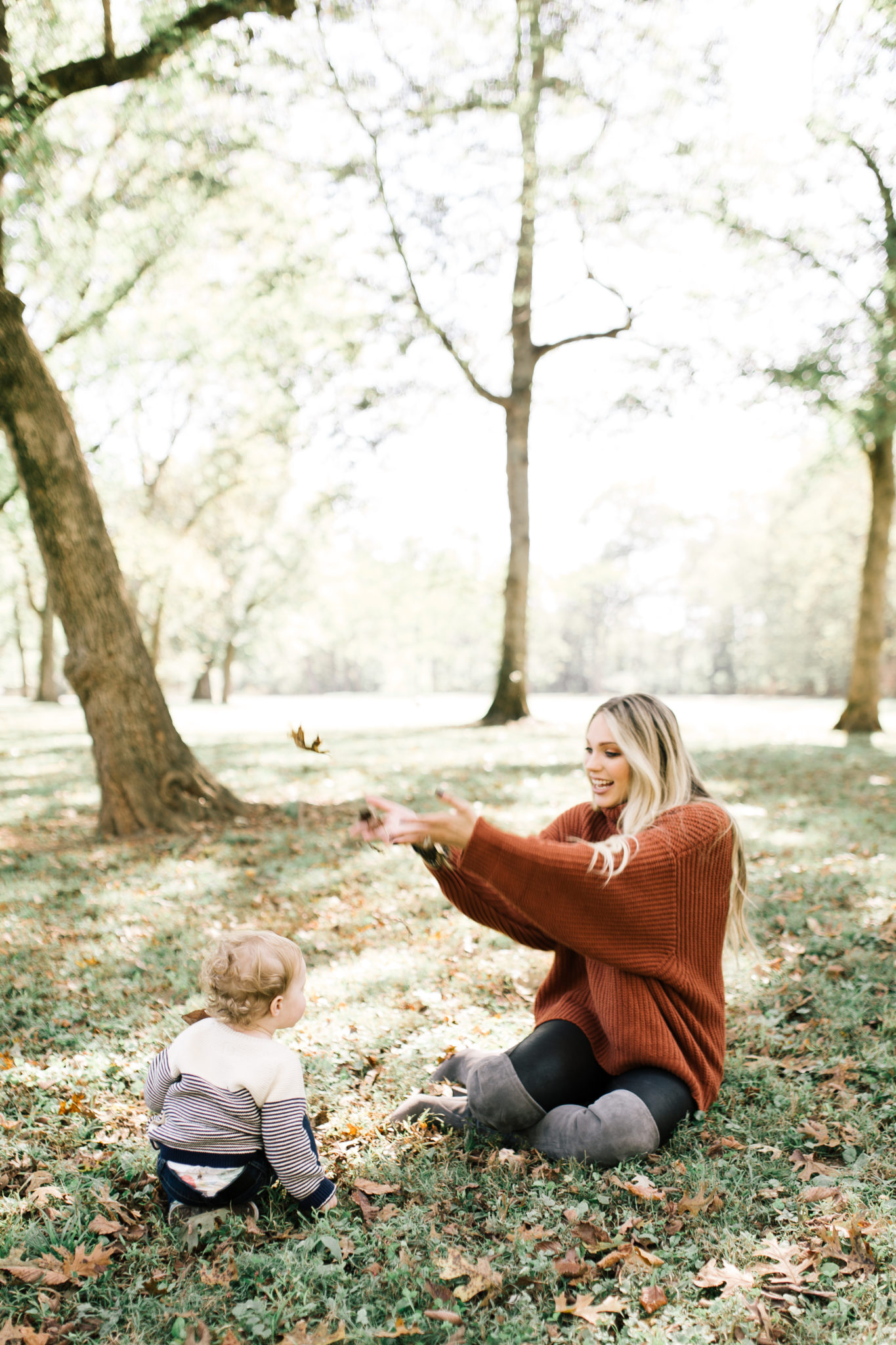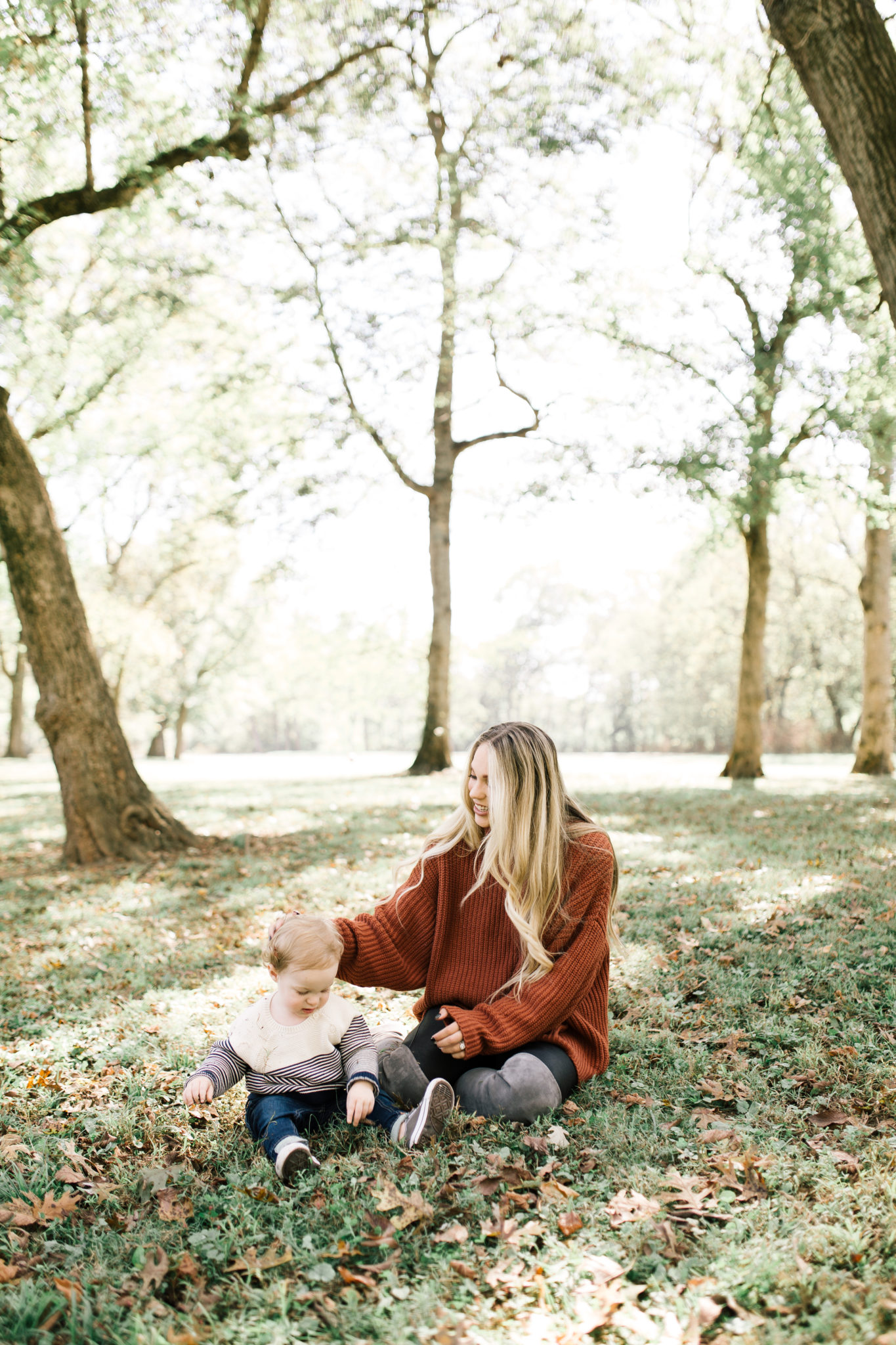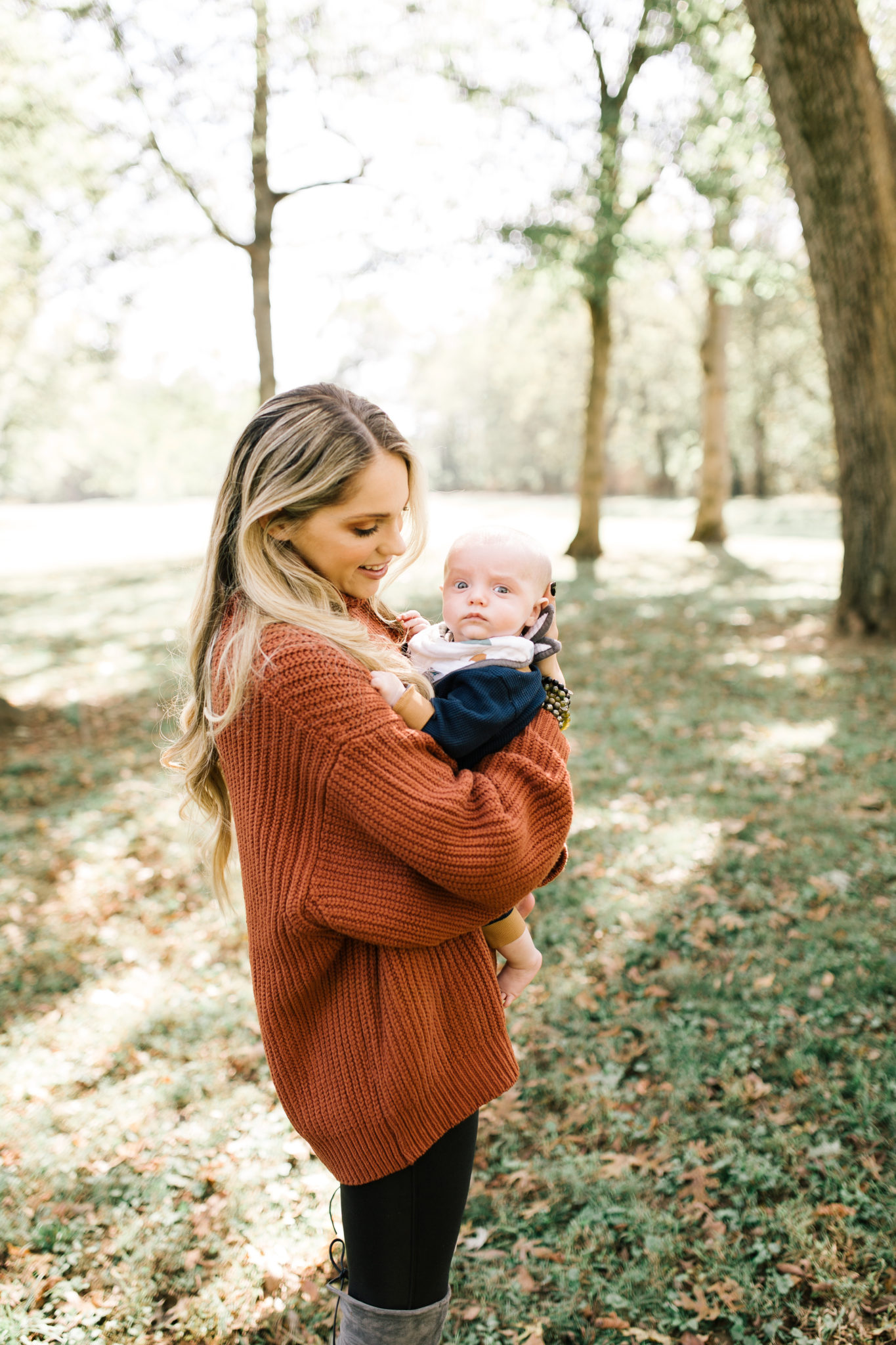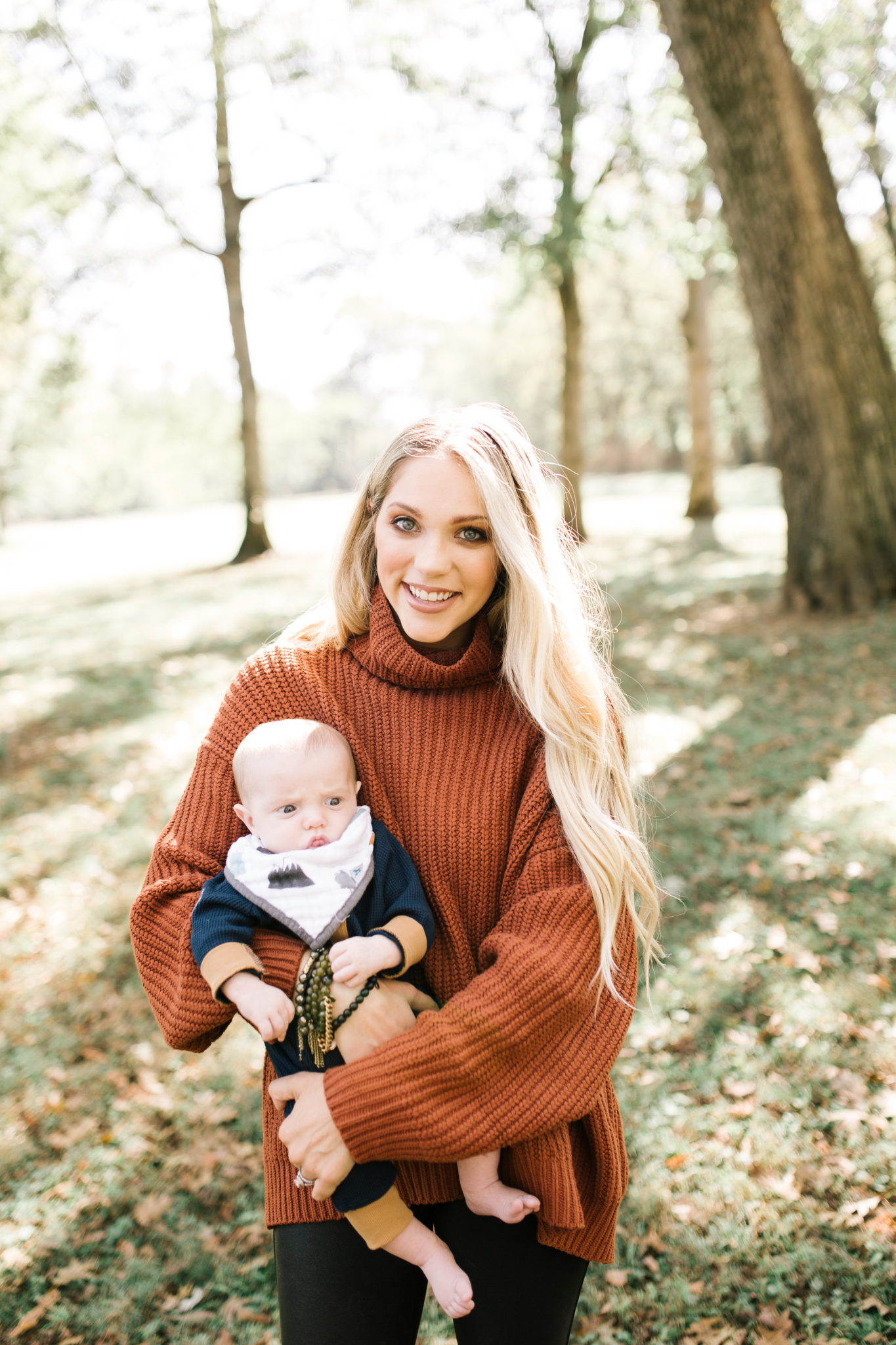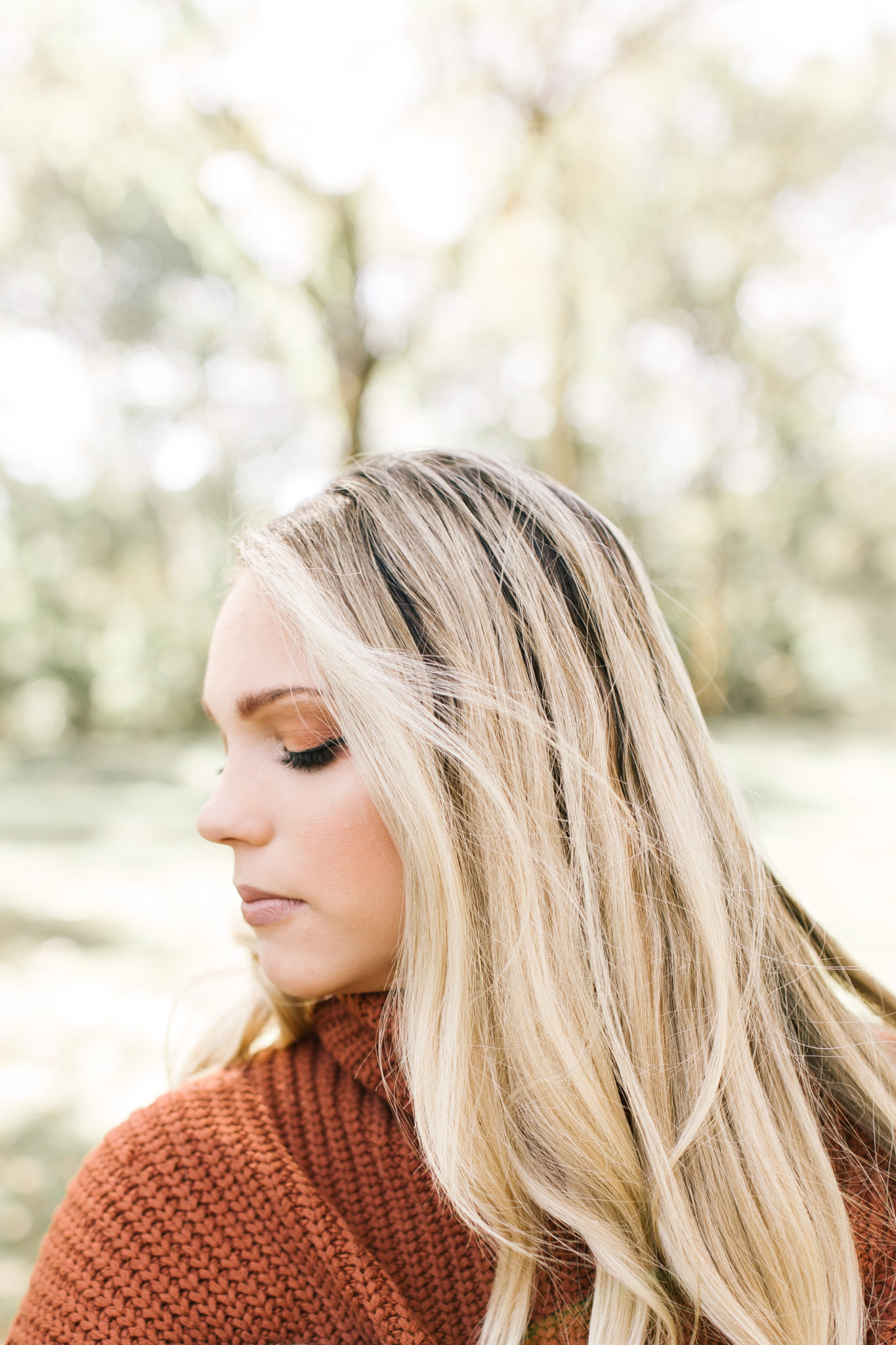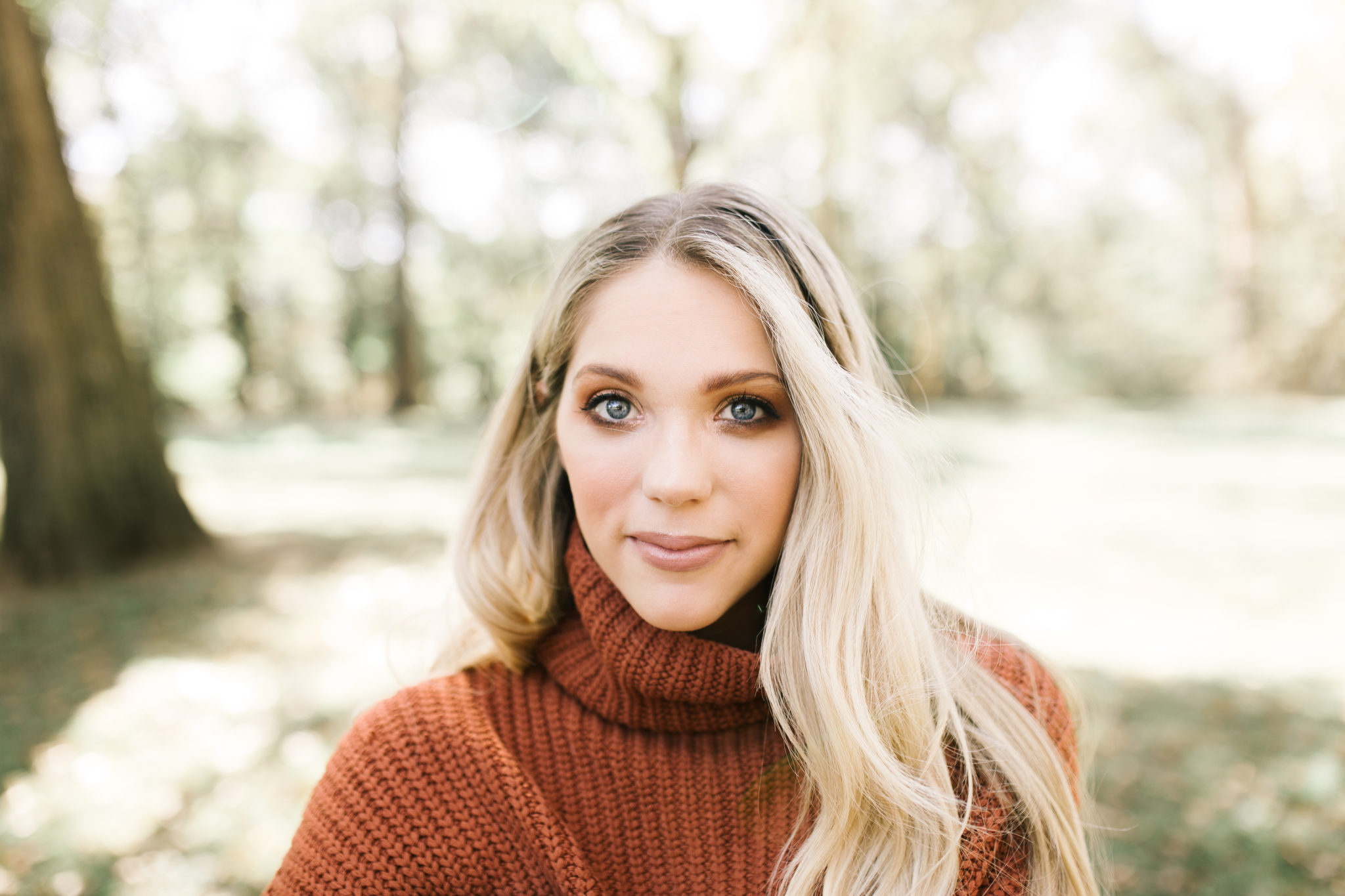 Outfit: Sweater | Sweater in 3 Other Colors | Leggings | Boots
Let me preface this by saying the baby shots were not working this day. G was tired and refused to get one with Wilder. It's important to me to try and get out and about and take them to the park or something outdoors everyday. I try to keep Georgie active and stay away from cabin fever as much as possible, but some days it's just simply hard.
I have been LIVING in this oversized sweater. It is big and comfy and when I'm with the boys it is easy to move around in and hides spit up well. (Hey, it's something I look for when shopping these days.) It does run oversized (I'm wearing a small.) If you prefer a tighter fit, size down. It also comes in three other colors HERE. These leggings are another "live in" kind of item when I am with the babes. They fit like a true shape wear. Tight to put on, but true to size. I love that they truly suck in this post baby bod.
Fall colors are the prettiest in my opinion, and that also applies to fall makeup! I had fun with my friend Chelsea trying them all out. (She also does all my photos, one talented lady! You can check her out HERE.) Ya'll may know by now that I LOVE TARTE cosmetics. It's organic and free of all the "bad stuff." So most of these products are by them.
FALL MAKEUP TUTORIAL
1.) To say a makeup brush has changed your life might be slightly dramatic, but THIS ONE has seriously changed the game for me. The Artis brushes are insanely good. I use the "oval 6" size for my foundation and highlighter (concealer.) The finish it creates is so well blended and natural looking. I began with Amazonian Clay Full Coverage with SPF 15.
2.) Then we added shape tape contour concealer in a large triangle shape under the eyes, and on the "t-zone" (nose and above eyebrows.) Blend this in with the artis brush in small circles. I know that shape tape is a cult favorite, I can't believe it took me so long to start using it. SO. DANG. GOOD.
3.) Arch-Architect to fill in brows. (I'm on my third tube of this. Easiest way to fill a brow, and get it to stay.)
4.) Kept it simple on the cheeks with blush/highlighter combo in the color "sparkler-rose gold highlight." Do big circles on the apples of the cheeks. (Switched up the brush and used this contour brush.)
5.) When it comes to a fall eye, Chelsea is the queen. Using colors from the magic star collectors set (which is $49 and the best gift ever by the way) she started by doing big circles to blend in the crease as the transition color. (Color shade majestic.) She brought this color underneath my eyes from the outside crease till the center of the eye as well. For the crease she used the second smallest brush from the artful brush set Then used the smallest brush to do a more pigmented lid using the color "broach." She also put this in the corner of my eye underneath. Going back to the second smallest brush from the set she highlighted under the brow with the shade "wander." She then used the same brush to blend. I decided against using eyeliner in the water line like I normally do. Opted for a small wing liner using liquid liner. (I prefer this one because it has regular liner on one side and liquid on the other.) I've been dying over this Too Faced Mascara. My mother in law got it for me last year for Christmas and I wish I had started using it sooner. It's adds volume and length.
6.) Set the whole look with this setting powder using the Artis palm brush.
7.) This lip I love and wear daily, but it worked with the fall colors as well. It's this tartiest quick dry matte in the shade "bestie." It's a long wear lip gloss, and like any long wear I like to add moisture to the top. I just use my Kiehls lip balm. I've been using that for years, and I haven't been able to find something that is more hydrating.