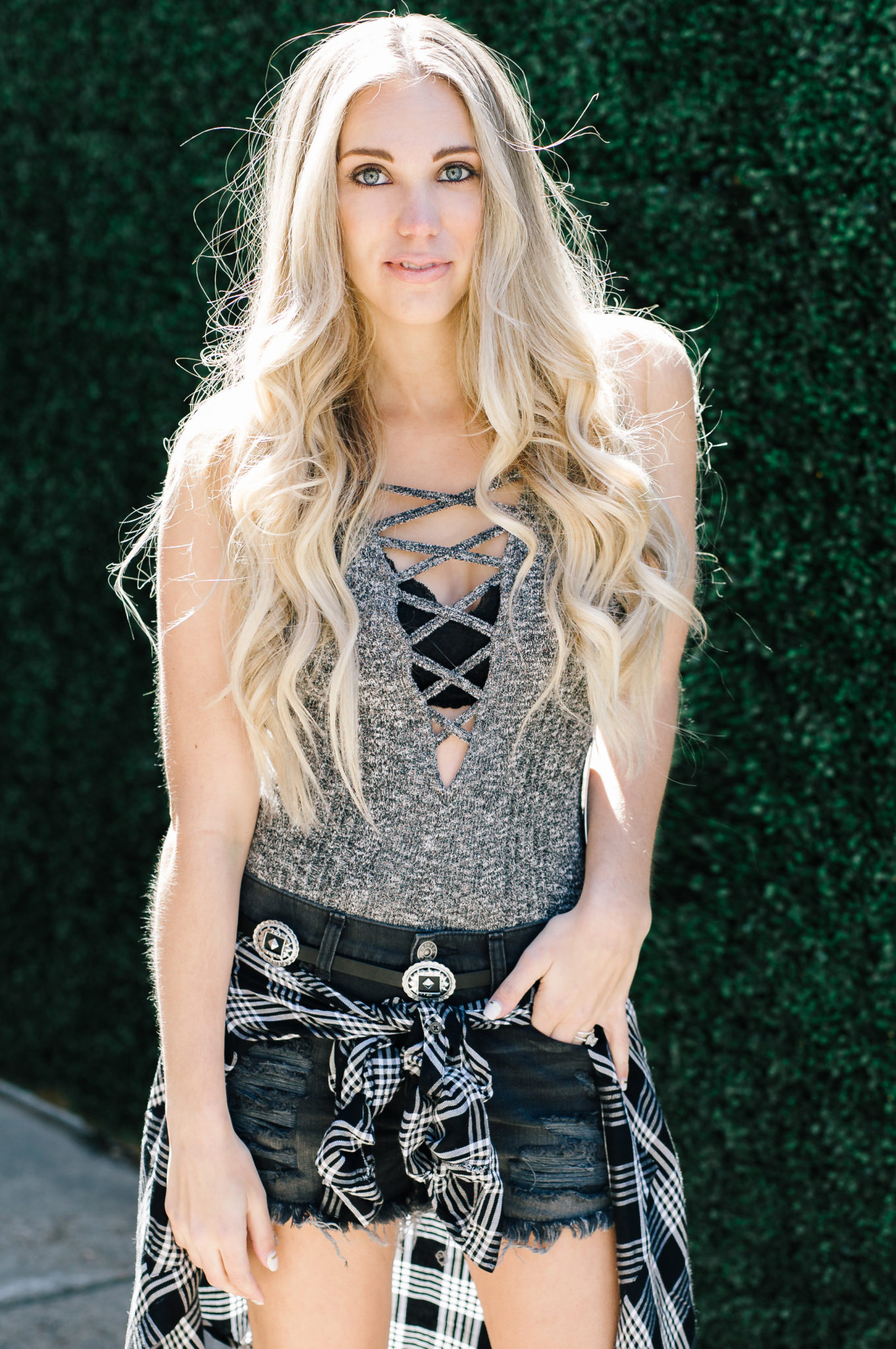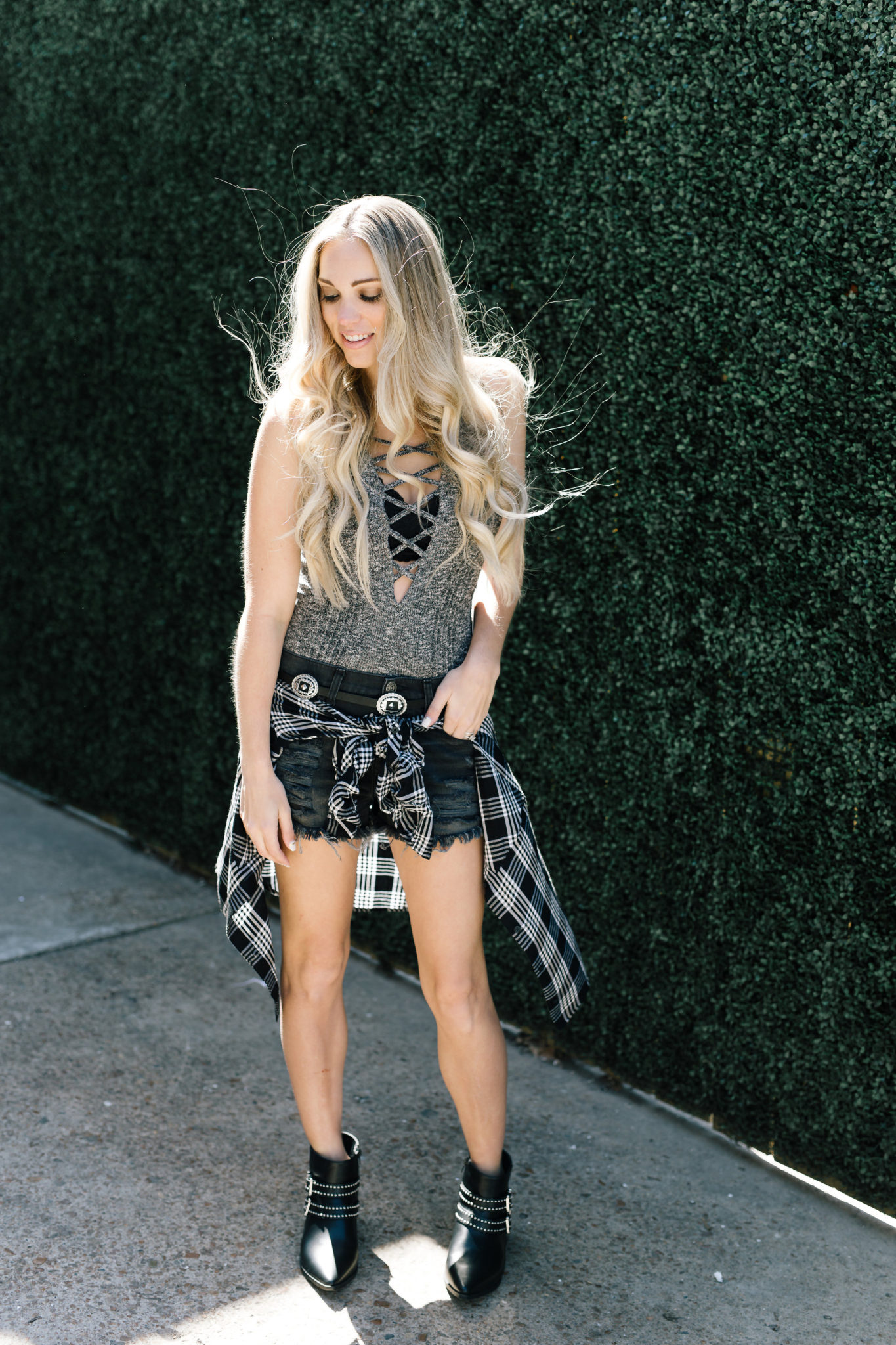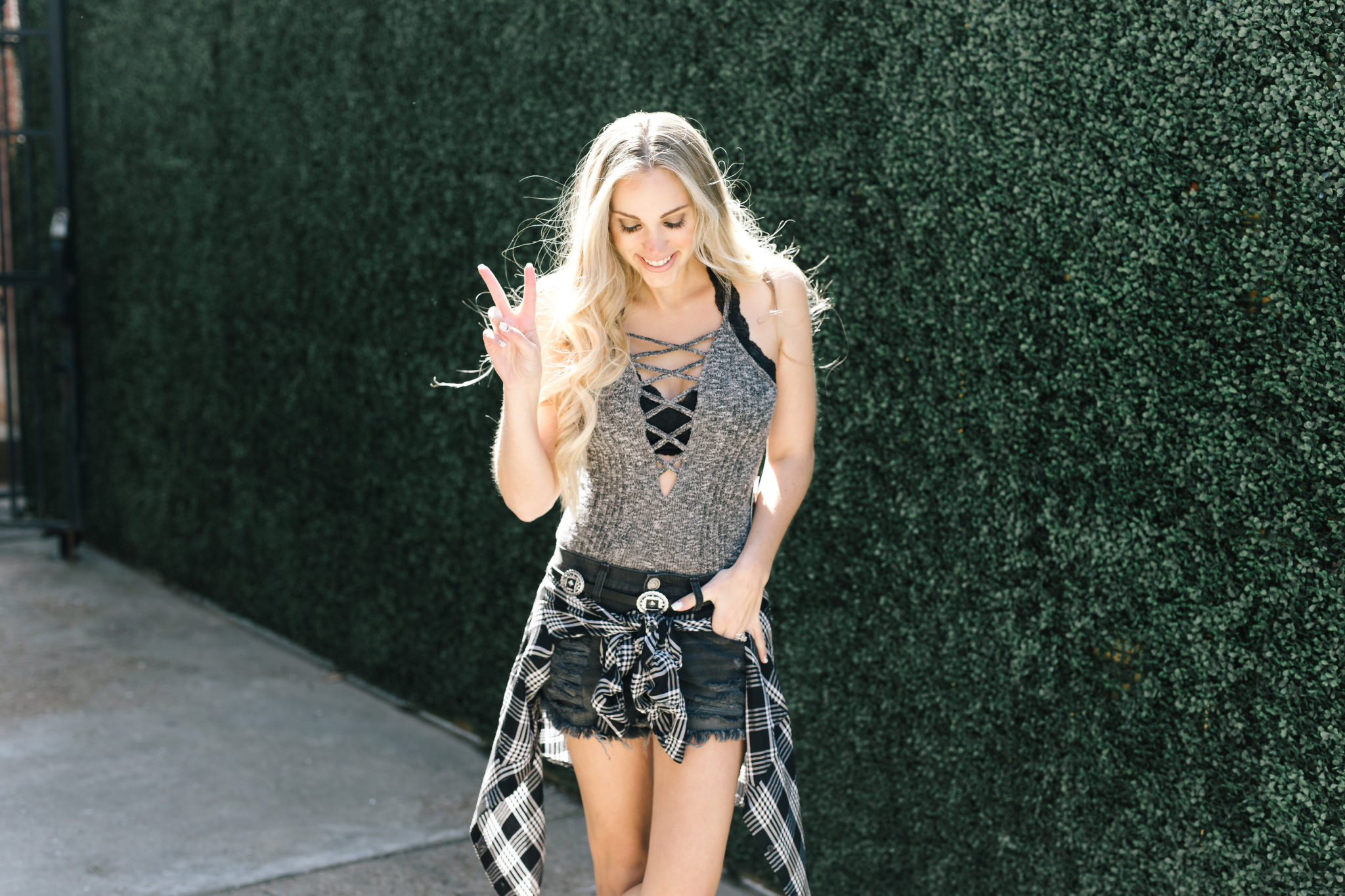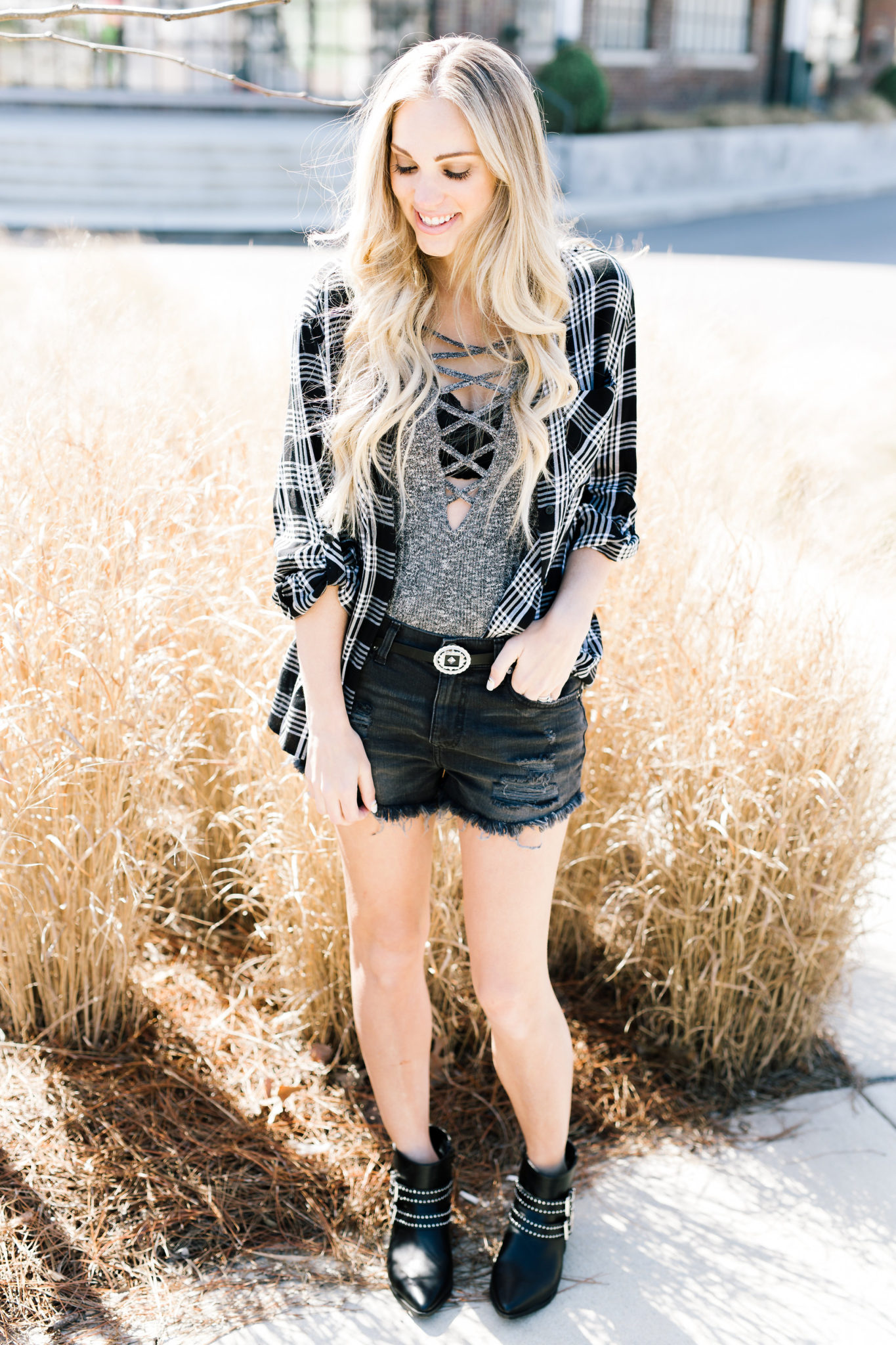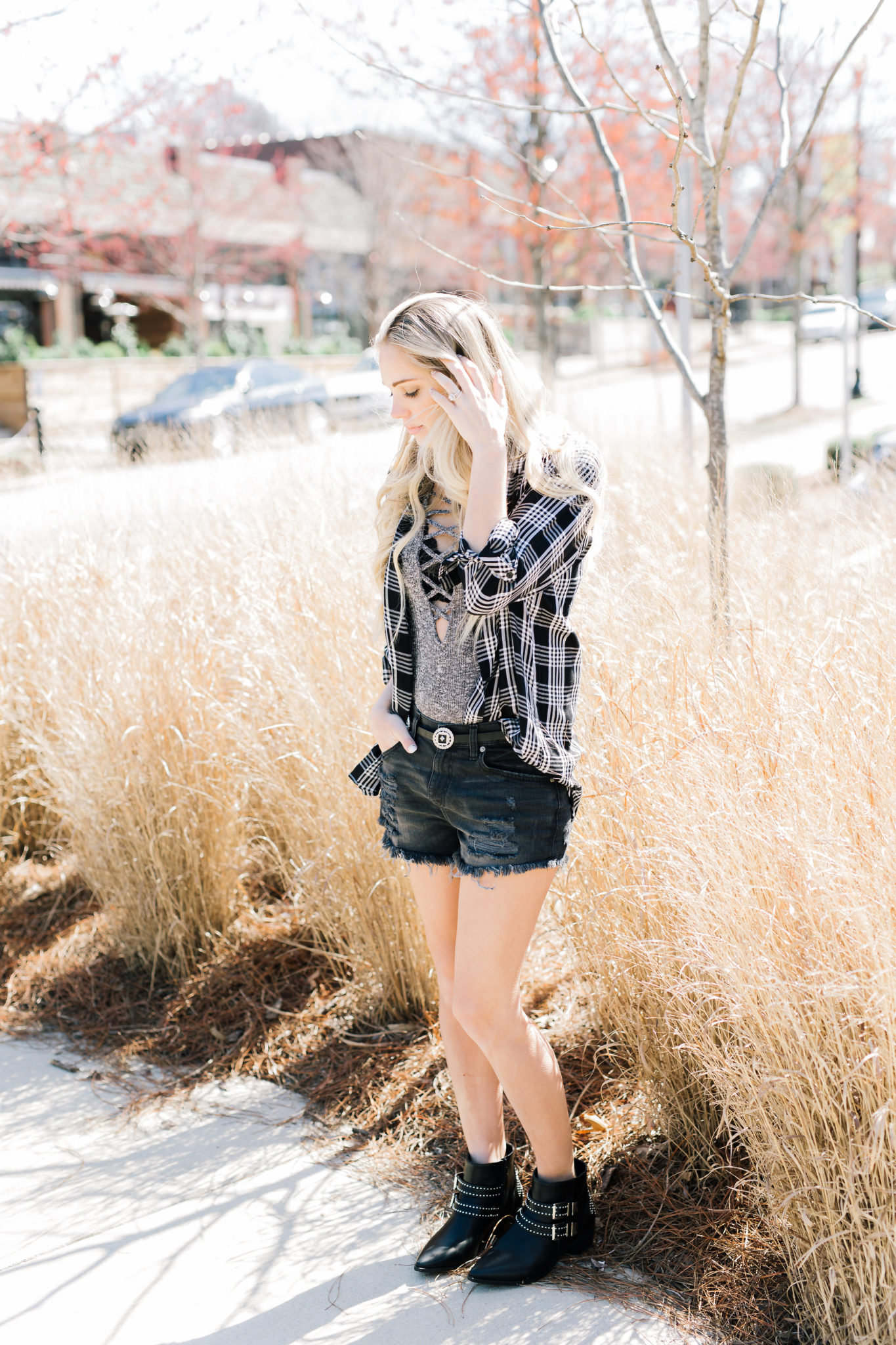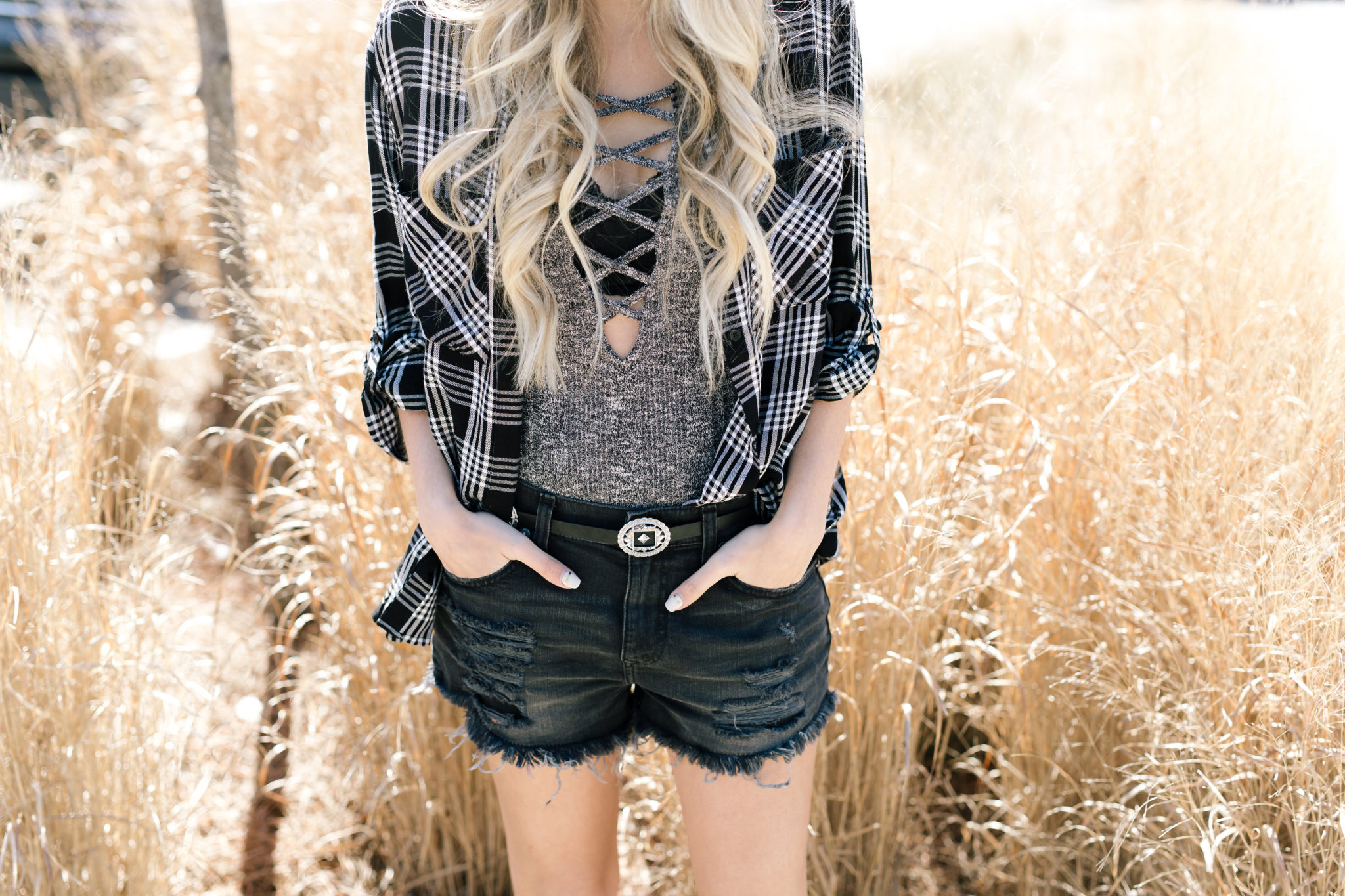 Festival season is right around the corner! As a music business family, we spend our summers festival hopping. Even our 10-month-old son throws on his baby headphones and joins in on the fun!
Outfit Details:Plunge Bodysuit | Lace Bralette | High Waisted Black Denim Shorts | Plaid Button Down Shirt | Western Belt Stud Booties
I had so much fun partnering with Express to showcase how I style festival fashion! All thoughts and reviews are my own!
Music festivals have developed their own fashion aesthetic and I've fully embraced it! We all know it's just as much about what you wear as who you go listen to these days, right?! It's one big runway, but focused around livable fashion. I can jump aboard that train!
I tend to lean towards versatile, low maintenance pieces that can take you from the afternoon shows all the way until those late nights. Looking for pieces that travel well is also key!
A good plaid shirt is an absolute must. It looks cute tied around your waist during the day, and you can wear it unbuttoned and slightly tucked in when the temperatures drop at night. Wearing one side tucked in and one out, gives the look a little extra interest. I like to pair mine with a accessories and a bodysuit. Both pieces can be worn again with other staple items and are light-weight and easy for travel. You could also wear the plaid shirt buttoned up and tucked in, for a more conservative look. This would also really showcase the belt!
Once you have your basics, you can add some fun accessories to round out the look. I'm obsessed with this western belt that really takes the outfit up a notch! Finish that off with some fun booties and you are good to rock all day! Most festivals are in fields, and let's be real, fields are dirty. Opt for booties over sandals to keep those feet clean! I'm a sucker for anything embellished, and the buckles mixed with the studs gives these the perfect edge to "rock up" the look.
This look is my go to during the summer months, whether I'm at a festival or just running errands around town. It's so easy to pull off, and the pieces can be worn so many different ways. We are always traveling, so these pieces are great because they do not wrinkle easily.
The weather in Nashville has been beautiful the last couple days! I can see the light at the end of the winter tunnel. I used it as the opportunity to rock this summer outfit for doing a little shopping around town.